2nd Edition
Available for pre-order today from these locations:
Print:
eBook:
Once released, the book will also be available from this web site in ePub and PDF formats.
1st Edition
You can buy Writing High-Performance .NET Code from the following online retailers.
The list price is $24.99 for paperback and only $9.99 for the eBook. Some retailers have further discounts.
Print:
eBook:
Have a Safari subscription? It's available there too!
You may also purchase the eBook directly from this site via PayPal:
Please note that if you are buying the book for an organization, you must buy a copy for each person who will have it. You may change the quantity on the Checkout page.
EPUB:
PDF (same formatting as the print edition):
Both! Get the best of both, with a 25% discount.
After purchase, you should receive an email with download links. If after an hour you have not received it yet, please check your junk mail folder. Otherwise, contact me and I will forward you the links. If you have any questions or problems, please send me a note via the Contact page.
---
Other Books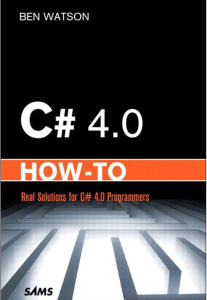 Please also check out my previous book, C# 4.0 How-To, for an excellent cookbook-style guide to solving hundreds of programming problems in .NET.